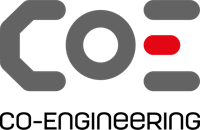 Emma Malin Vintefjell
Country Manager – Business Management
Emma Malin Vintefjell is the Country Manager of Co-Engineering Nordic, bringing the successful Finnish-founded business to Sweden.

Malin is a certified project manager (PMP)®, with extensive experience managing technical projects in the renewable energy sector as well as in the manufacturing automotive industry. She has a strong international background and has held roles in Sweden, Norway, the United States, and Kosovo. With a passion for inclusive leadership, she thrives in communications and interpersonal skills and excels in facilitating teamwork and stakeholder engagement across disciplines and cultures.

Outside of work, Malin is an avid outdoors enthusiast and long-distance hiker. She has completed the Pacific Crest Trail and the Continental Divide Trail.

Malin is curious, ambitious, and driven by a purpose to make an impact. She holds an MSc in Automation and Mechatronics Engineering from Chalmers University of Technology and an MBA from Boston University, Questrom School of Business.