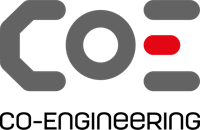 Minna Rintala
Financial Management administration
Minna Rintala has worked at Co-Engineering since the beginning of 2020. She switched careers from the restaurant business to financial administration. Being a decisive person, Rintala knew she wanted to become a payroll officer as soon as she had gone back to studying.
"I wanted to switch from restaurants to office work and started studying financial administration. I found my way to Co-Engineering when one of my teachers told me about them. I took the hint and applied for a post as a trainee. This is how I got my foot in the door to a new company I previously knew nothing about," Rintala explains.
After her traineeship, Rintala returned to her college to complete her theoretical studies and wrote her thesis on the duties of a payroll officer over one year. After completing her vocational qualification in financial administration, the doors to Co-Engineering opened up to her again and she started her new job straight away.
"I felt more than welcome. Although I had only just graduated, people here trusted in my abilities. At first, I handled Co-Engineering's purchases and sales ledgers and then moved on to my current duties as a payroll officer. At Co-Engineering, you get to show what you can do."
Rintala recommends that students keep their eyes open for any opportunities various companies offer. You might find work in an industry you never thought to look at.
Comprehensive induction, flexible working hours, and an easy-going work community
Rintala has years of experience working for various companies. What she appreciates about Co-Engineering is their flexibility which allows employees to organize their work to fit their lifestyle. They value their employees' contribution to the company and listen to them.
"In their recruitment, they have managed to choose people who are eager to show what they can do and to learn more. They offer a great growth platform for that here."
Co-Engineering hires people at the early stages of their careers. Many of them have continued working for the company for several years.
"I believe that the great team spirit is one of the reasons why people stay. When you spend eight hours at work every day, it's important that you like the people you work with and the company you work for. We have an easy-going atmosphere here with plenty of room for humor."
Balancing work with exercise
Rintala has been enthusiastic about exercise her whole life and at one point, she thought she might make a living from it. After the scales tipped in favor of office work and financial administration, she has also started studying to become a personal trainer.
"Being a personal trainer is the perfect counterbalance for office work and I believe they balance each other out very nicely. I'm very happy to have the opportunity to do both these things, as they are both important to me."