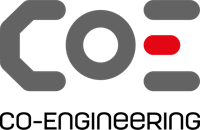 Reetta Viljanen
Project Engineer – Engineering Consulting
Project Engineer Reetta Viljanen started working for Co-Engineering in Vaasa in 2015. Over the years, Reetta has gained an all-around competence, having worked at both power stations and in the marine industry, getting into the latter in 2018, when her career took a new turn and led her to Helsinki. The transition went smoothly in collaboration with her employer, Co-Engineering.
"What I particularly enjoyed in the marine industry was its global nature and the opportunity to speak English. It was great to get to work in cooperation with experts from different countries," Reetta says.
The unexpected pandemic hit the marine industry hard in 2020. Yet, Co-Engineering did not stop and wait but started organizing Reetta's new duties immediately. In the end, she even got to choose between several assignments.
"I'm grateful for my employer for organizing things so well in a challenging situation. Co-Engineering's diverse field of work showed itself in its best light in this situation."
Accuracy and the ability to see the big picture are important qualities for a design engineer
In her current job, Reetta designs automated switchgear and their cabling for hydroelectric power stations. Sometimes it can be challenging to adapt new systems to old power plants, but this brings out the best in Reetta as a designer.
"Many hydropower plants were built in the 50s and 60s, so sometimes there are surprises you have to tackle. You really have to keep your eyes open."
For the best result, you need to look at things from many points of view. The end result must be something that works for the client and, as well as costs, you have to take other stakeholders into account too, such as manufacturers and installers. Communication is key.
"At the most active stage of the design, project meetings are very important. In them, we go systematically through the progress of the project and design, as well as the priorities and any problems there may be. When you combine professional skills with a good attitude, the work goes smoothly for yourself and others. This means that when there are problems, they don't seem insurmountable, but they become things that can be solved."
Employees participate in developing the company's operations
Reetta is involved in a development team whose goal is to promote the personnel's well-being. In Reetta's opinion, Co-Engineering's trump card is the fact that it truly listens to its employees and takes their well-being into account. Employees have a low-threshold channel of communication with the management in every situation, and there is plenty of flexibility. Reetta also appreciates her wonderful workmates, the excellent team spirit, the encouragement they all get from the company to keep developing their competence and the flexible working hours. What's more, Reetta has the home ground advantage at Co-Engineering.
"It's been great to watch the company grow. I can't wait for the coronavirus to ease up so that I can meet my new workmates, not to mention the old ones! There are so many of us now! It's definitely a bonus for me that my employer is based in Ostrobothnia; after all, I grew up in Teuva. We Ostrobothnians always have each other's back!" Reetta laughs.
In her leisure time, Reetta likes to travel, but since the pandemic, she goes kayaking or hiking instead. When she wants something less strenuous to do, she picks up her PlayStation controller or her knitting.